Cat's Eye Gemstone Benefits | Cat's Eye Astrological Benefits | Ketu Stone Benefits
In Vedic Jyotish astrology, cat's eye (chrysoberyl) is associated with Ketu, the other celestial entity (together with Rahu), a shadowy planet, but in reality a mathematical point of intersection of Moon's and Sun's paths. Ketu, the descending node of the Moon is represented by the cosmic color infra-red, and belongs to the Air element.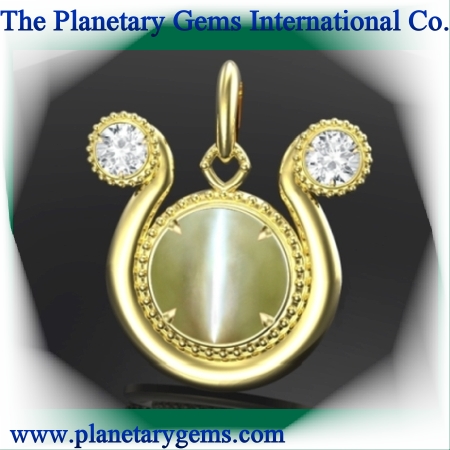 Like the eye of a cat or a panther, cat's eye chrysoberyl seems almost supernatural in origin. How could something so feline be mineral and not animal? Cat's-eye is a variety of chrysoberyl which has a distinct band of light across its face, which sweeps from side to side. It is recognized in all ancient cultures as powerful talisman that can direct fortune.
Gemological properties
Chemical composition: Al2(BeO4) Beryllium Aluminum Oxide
Species: Chrysoberyl
Hardness: 8.5
Density: 3.70- 3.72
Refractive index: 1.744- 1.755
Birefringence: 0.011 double refractive
Pleochroism: very weak
Color: Light greenish yellow, green, brownish green, brownish yellow, brown

, dark brown

Occurrence: Sri Lanka, Tanzania, Brazil, China, Russia
Astrological properties
Planet: Ketu
Color: infra-red
Number: 7
Chakra:

Ketu Mantra

"Aum kem ketave namah"
repeated 18 times at the time of wearing the Ketu talisman.

Sign: Pisces
Element: water
Day: Thursday
Time: After sunset

Sanskrit Names

Ketu-ratna
Ketu's gem
Vaidurya
Cat's eye
Sutra-mani
Thread-jewel

Signs of a well-placed Ketu

Signs of an afflicted Ketu
"Cat's eye recommended!"

Prevention of the following diseases
"Cat's eye recommended"
Back to the
Cat's Eyes showcase