Knowing Your Planetary, Jyotish Gems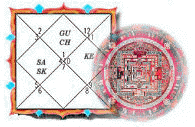 To know which of the nine Planetary Jyotish Gems you need, we have to calculate your astrological, Vedic birth-chart.
By looking at the "sky" at the time of your birth, we will be able to determine the best personalized Planetary, Jyotish Gems for your zodiacal sign and ascendant. For this time consuming procedure, we charge $30 ($35 for international, worldwide airmail included) that will be applicable to any gem purchase over $500. This payment has to be made only by any major credit cards, after your filling out the form below. You will be transfer to the next page, where a link to the payment form is provided.
We will send you a printout of your personalized, Jyotish horoscope and gem recommendation. NOTE: Due to a large number of orders, turnaround time is approx.1 week.