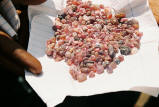 A gem dealer's dream! It has been in my mind, it is and will always be...A huge parcel of unheated pink and padparaja sapphires. Despite the poor storage mean, this lot sold at an enormous price. Consider that sapphire rough will loose approx. 50% of its weight after cutting.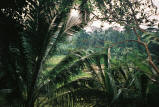 Jungle outside Ratnapura. Gem pits are present all over.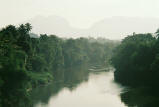 The "Kaluganga" passing through Ratnapura. One of the major 4 rivers of Sri Lanka. It springs from Adam's Peak..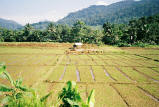 Gem mining operation. You can see many sort of small mining operations around town...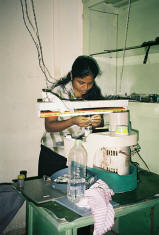 Cutter pre-forming a sapphire. She is an exceptionally skilled lapidarist. Ratnapura cutters are well known in Sri Lanka for the finest, most lustrous, and perfect not automated cutting.

Another skilled (and beautiful as well) lapidarist working for our friend.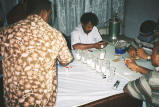 Miners at an auction. Rough finds of a full week are auctioned off to the high bidder. Parcels of rough are viewed by the members, then everyone interested will place a silent bid and place it in the glass belonging to that particular parcel. The highest bid win the lot.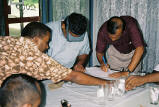 A final check of the rough with an optivisor is necessary before placing the bid.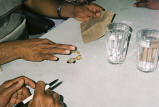 Counting the pieces of a parcel after viewing it.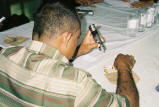 It is never enough checking the most likely clarity of the rough...It takes years and years of experience, and even after all the knowledge and experience accumulated, miners say: "rough is tough"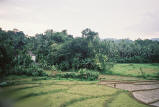 Rice fields and Jungle.